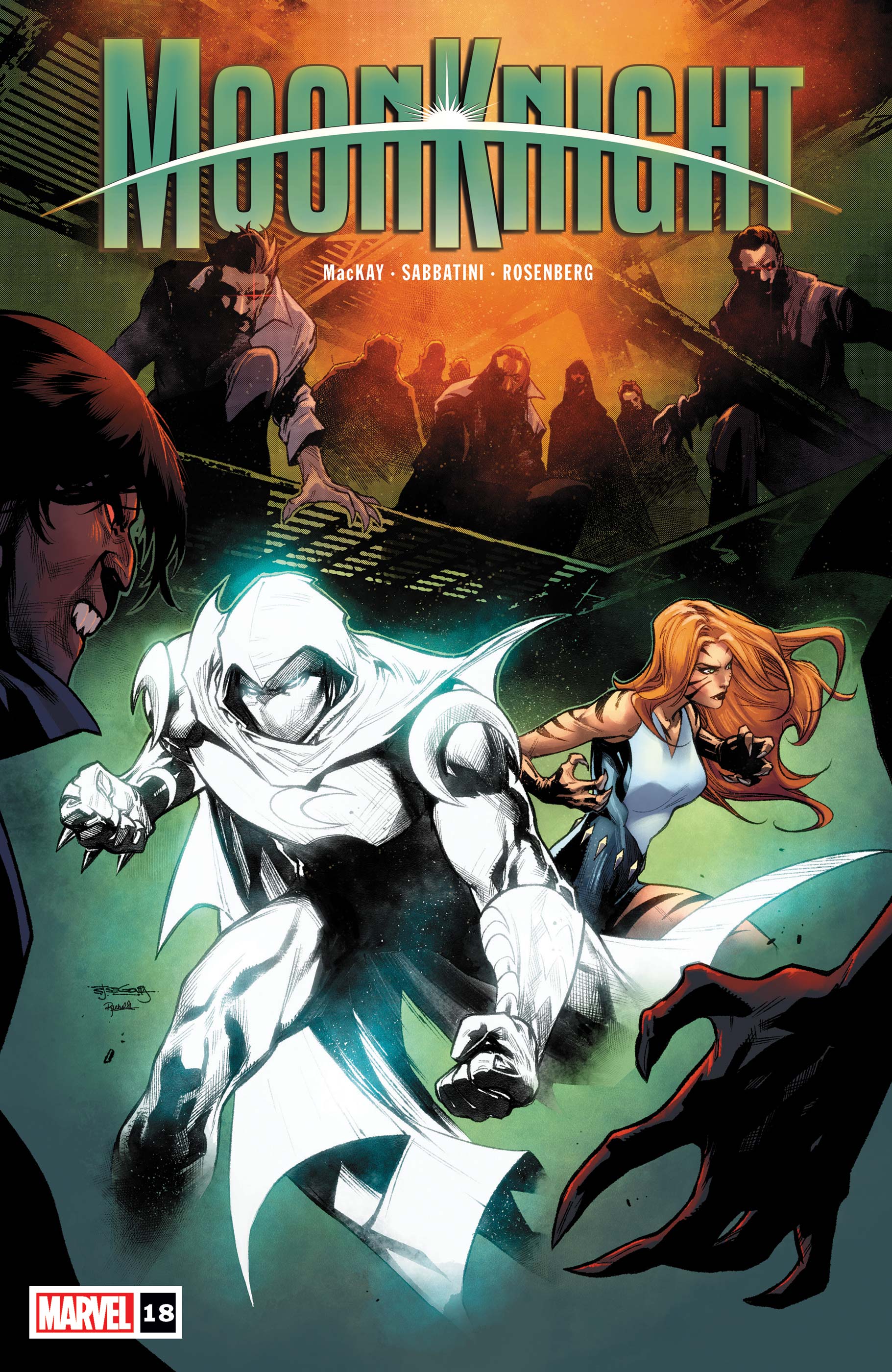 Written by: Jed MacKay
Art by: Federico Sabbatini
Colors by: Rachelle Rosenberg
Letters by: VC's Cory Petit
Cover art by: Stephen Segovia, Rachelle Rosenberg
Cover price: $3.99
Release date: December 28, 2022
Moon Knight #18 brings the Fist of Khnoshu's conflict against the Structure to an end with a final confrontation at a vampire conference. Who ordered the "stake"!?
Is It Good?
Quick but satisfying. No, that's not a "that's what she said" joke. That's an accurate description of Moon Knight #18 and Moon Knight's final fight against the Tutor and a ballroom full of vampires.
When last we left Mr. Knight and Tigra, they crashed a vampire conclave hosted by Tutor for an international gathering of elite vampire leaders. The two adversaries soak up a few panels with bravado and posturing speeches before Mr. Knight unleashes a secret weapon that puts an end to Tutor's grand plan.
The weapon is clever, the execution is slick, courtesy of Sabbatini's phenomenal art, and MacKay ends the conflict with satisfying comeuppance for the vampire group making a move on NYC.
That said, the downside of the issue is the ease and quickness with which it all comes together. The resolution cements Moon Knight's position as NYC's bad-butt vigilante, but the final fight is almost over in the blink of an eye. You're satisfied because Tutor deserved what he got, but it all ends a little too easily.
Still, great art, great action, and clever use of religious ritual make this one of the better arc endings in MacKay's run.
---
About The Reviewer: Gabriel Hernandez is the Publisher & EIC of ComicalOpinions.com, a comics review site dedicated to indie, small, and mid-sized publishers.
Follow @ComicalOpinions on Facebook, Instagram, and Twitter
---
Final Thoughts:
Moon Knight #18 brings Moon Knight's battle against an encroaching vampire organization to a close with great art, great action, and a clever "super weapon." However, the final fight satisfies because the villain gets what's coming to him, but the fight ends too fast and too easily.
8/10