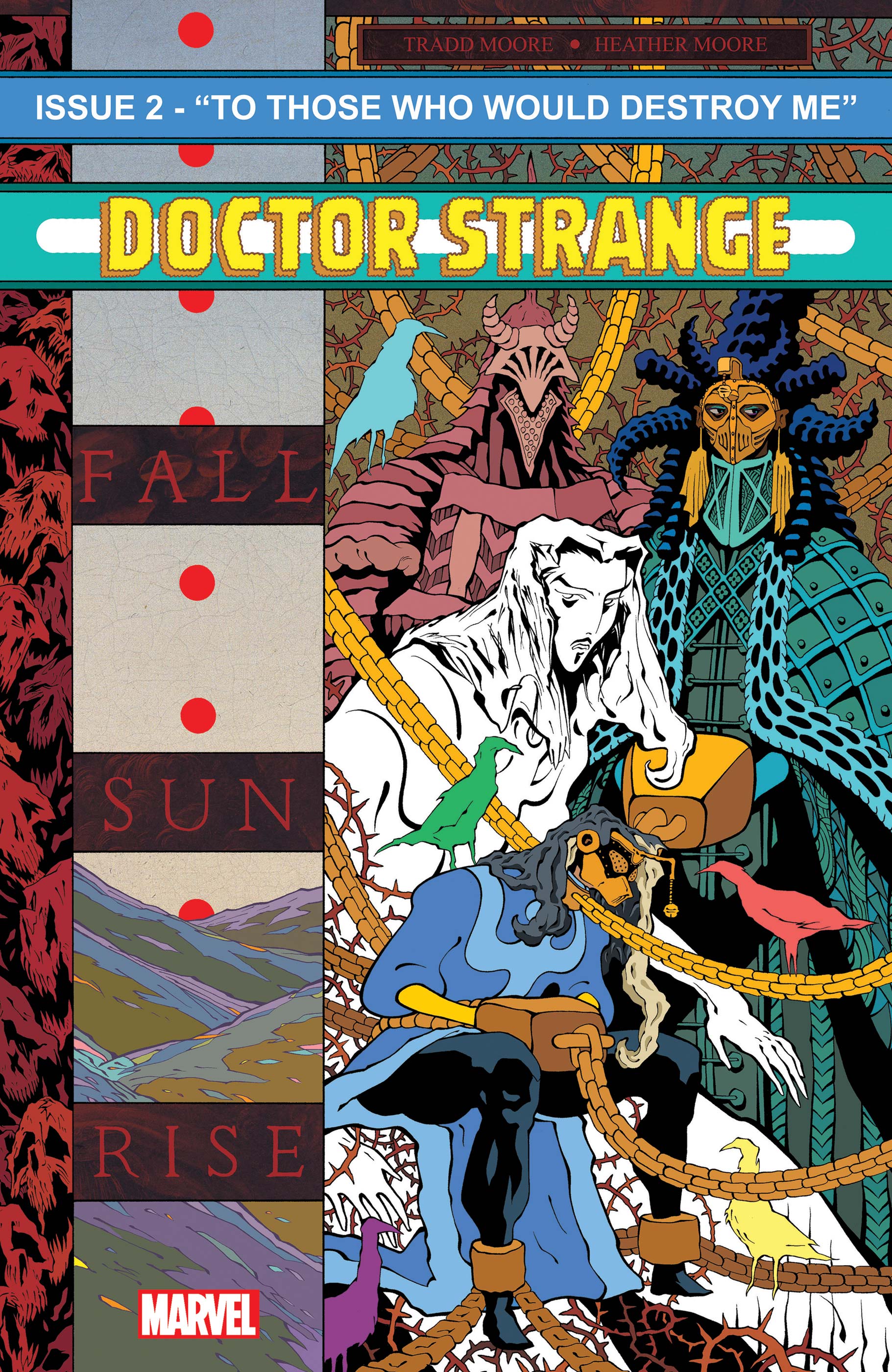 Written by: Tradd Moore
Art by: Tradd Moore, Jensine Eckwall
Colors by: Heather Moore
Letters by: VC's Clayton Cowles, Tradd Moore
Cover art by: Tradd Moore
Cover price: $4.99
Release date: December 28, 2022
Doctor Strange: Fall Sunrise #2 recounts how Doctor Strange accepted an offer he couldn't refuse at the behest of a goddess who controls the very shape of the universe.
Is It Good?
Well, okay. Doctor Strange: Fall Sunrise #2 is just as weird as, if not weirder than, the first issue, and yet, this issue clarifies a lot about what's happening. The concepts Tradd Moore plays with within this story stretch your perceptions about reality, but the execution and art are so unique, it's hard not to stay invested, even if you don't quite understand it.
That's a fancy way of saying the story is super weird and confusing but fascinating, like a lava lamp that makes randomly generated faces. You don't have to be on recreational pharmaceuticals to enjoy this issue, but I suspect it helps.
Doctor Strange: Fall Sunrise #2 takes readers on a flashback ride, complete with a mythological recounting of the creation of one universe, where the gods of shape (Sophia) and ideas (Bythos) have a falling out that leads to much chaos and blood. Countless ages later, Sophia approaches Doctor Strange to help her deliver her "child." The delivery will likely kill Strange, but if he refuses, the newborn's death could destroy Sophia's reality… or something like that.
Now, we catch up with Strange from the first issue, where something happened during the delivery (or maybe it hasn't happened yet), and his current predicament has trapped him in this fantastical realm with only snatches of memory. Unfortunately, today is the day of a great blood sacrifice demanded by Bythos (Sophia's former, better half), and Strange is next on the menu.
Again, you don't have to partake of the forbidden herbs to understand it all, but it probably helps. Moore is playing with concepts from Mesopotamian mythology (Tiamat for Bythos, and Marduk for Sophia), Christian allegories with the painting of blood as protection against sacrifice, and more. It's a lot to take in, so if you view the melding of myths and religions into a dense reading experience as a down point, that is right. Any way you look at it, this is not light reading.
Still, the density of the material is offset by the fascinating art and story execution. Shapes and characters ebb and flow with the emotions they experience. The action moves with the grace of a classically trained contemporary dancer. And the dramatic tension rises and falls like the swells of a winter storm at sea.
Fascinating. Weird and confusing but fascinating.
---
About The Reviewer: Gabriel Hernandez is the Publisher & EIC of ComicalOpinions.com, a comics review site dedicated to indie, small, and mid-sized publishers.
Follow @ComicalOpinions on Facebook, Instagram, and Twitter
---
Final Thoughts:
Doctor Strange: Fall Sunrise #2 clarifies the backstory behind Doctor Strange's current predicament and adds a weirdly bizarre mix of religion, ancient legends, and lore for a truly unique experience. In fairness, the mix of concepts makes this issue a dense, heavy read that doesn't always remain lucid, but the experience is fascinating enough to keep going.
7.5/10