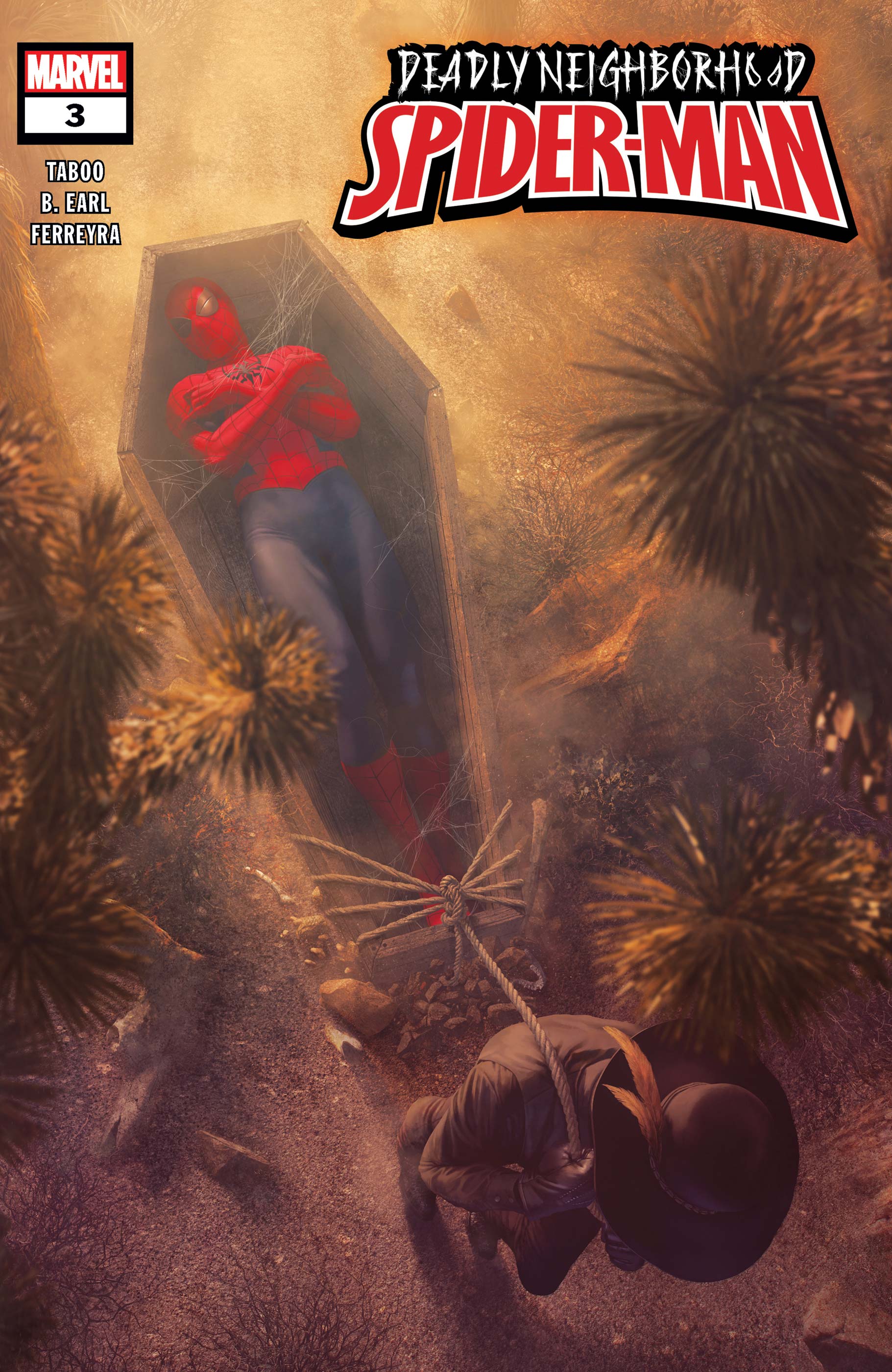 Written by: Taboo, B. Earl
Art by: Juan Ferreyra
Colors by: Juan Ferreyra
Letters by: VC's Travis Lanham
Cover art by: Rahzzah
Cover price: $3.99
Release date: December 28, 2022
Deadly Neighborhood Spider-Man #3 blurs the line between the waking world and dreams when the Demon Bear's challenge to Spider-Man begins.
Is It Good?
Deadly Neighborhood Spider-Man #3 is confusing with a light dusting of cringe. Taboo and B. Earl's premise about the overlapping corruption between dreams and reality is intriguingly creative, and Ferreyra's art style is eye-catching, but the writing team tries too hard to blend symbolism, metaphor, and indigenous mysticism. The net result is an ambiguous mess. Plus, there's an entire page of cringe that you should have expected, but it comes off worse than you could imagine.
When last we left Spidey, the Demon Bear issued a challenge – find and defeat the Demon Bear within a mystical maze before the end of three days, or the nightmare realm will overrun the physical world.
It sounds clear enough, but you have to wade through dialog about ancient myths and legends, heavy symbolic imagery that makes no sense without context, and events that spawn out of nowhere without explanation or apparent reason.
Now, Spidey is taken into the dream world by a talking crow to show Spidey a symbol that may or may not be connected to the science project Peter Parker is working on. Rather than hop on the clue, realizing the Demon Bear's deadline is fast approaching, Peter heads out on an overnight hiking trip with Crystal. Apparently, saving the world from a catastrophe Peter may have helped create is not worth rescheduling a weekend getaway.
Between the nightmarish visions, there's yoga, more crows (Crows Crystal now sees, but again, doesn't feel the need to investigate with any urgency), and a rousing game of frisbee. The writers can't seem to settle on whether or not Spidey's predicament is important, and it's weirdly offputting.
Now, for the cringe. Yes, Taboo is a member of the musical group Black Eyed Peas (BEP). No, you shouldn't be surprised when a reference is made to BEP. But here, an entire page, plus a few panels more, is taken up with people sitting in a car singing a BEP song. The song isn't playing in the background while an important conversation takes place. There isn't an important action happening outside the car to hold your attention. It's just an entire page of Taboo's self-promotion. Make of that what you will.
---
About The Reviewer: Gabriel Hernandez is the Publisher & EIC of ComicalOpinions.com, a comics review site dedicated to indie, small, and mid-sized publishers.
Follow @ComicalOpinions on Facebook, Instagram, and Twitter
---
Final Thoughts:
Deadly Neighborhood Spider-Man #3 is filled with intriguing art and imaginative ideas, but the over-reliance on heavy symbolism makes the plot often confusing, and the lack of character urgency against a world-ending threat is bizarre.
5.5/10