Writer: Ram V
Artist: Bryan Hitch, Andrew Currie, Alex Sinclair, and VC's Clayton Cowles
Cover Price: $3.99
Release Date: April 13, 2022
I have not been a fan of what Ram V is doing on this Venom book since he and Al Ewing took it over. Actually, I haven't been a fan of what he isn't doing, and that is progressing his overall story with a solid focus on Dylan and Venom. Unfortunately, the book's pacing has been off from the start, and Ram V presents his usual knack (if you've read his work at DC) of having too many side characters clutter up the focus of his main story. Do things change in this issue? Let's find out…
A quick answer to that question is "No" as we focus more on Jake, the biker gang leader with a heart of gold than on Dylan and Venom. Sure, they are in the issue, but until the cliffhanger, they seem to be here only to provide the requisite action scenes. I can't be alone in thinking that this is an odd play.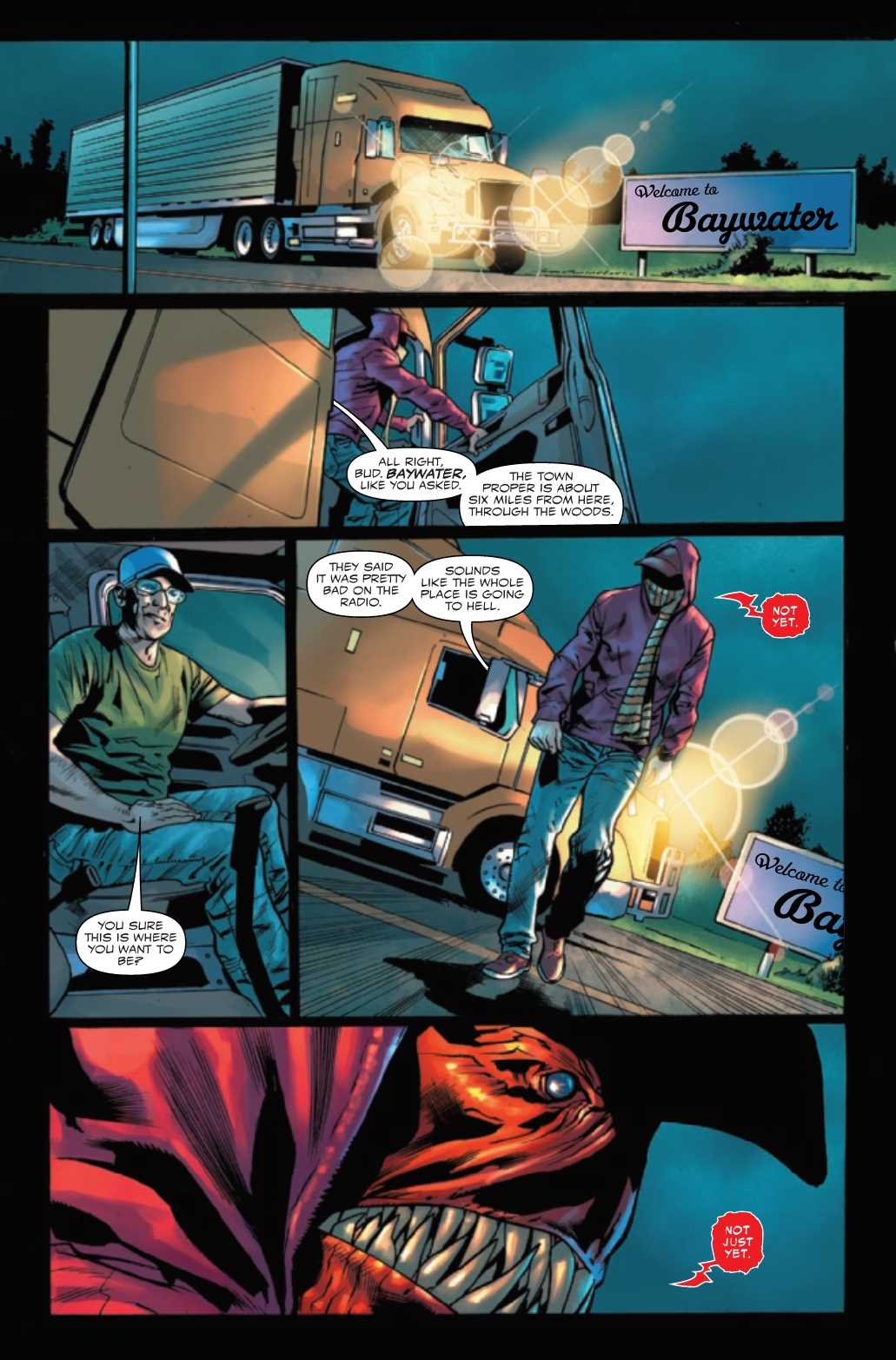 The issue opens with Dylan/Venom finding out that Jake is in trouble and that the Life Foundation is in town with a few days to kill. Sleeper heads off to distract the LF (basically to keep them out of the issue) while Dylan tries to save Jake. Unfortunatley, Bedlam shows up, and the fight is on.
There has been an interesting dynamic between Dylan and Venom. It continues here with Venom convincing Dylan they have to go all out to defeat Bedlam and eventually take the big guy down. Another exciting aspect of the fight is Bedlam telling Dylan he is not with the Life Foundation (the reader knows that, but it's news to Dylan) and that he wants to make Dylan better. While this is going on, Ram V seems more interested in biker gang politics and Grease Pit Rules.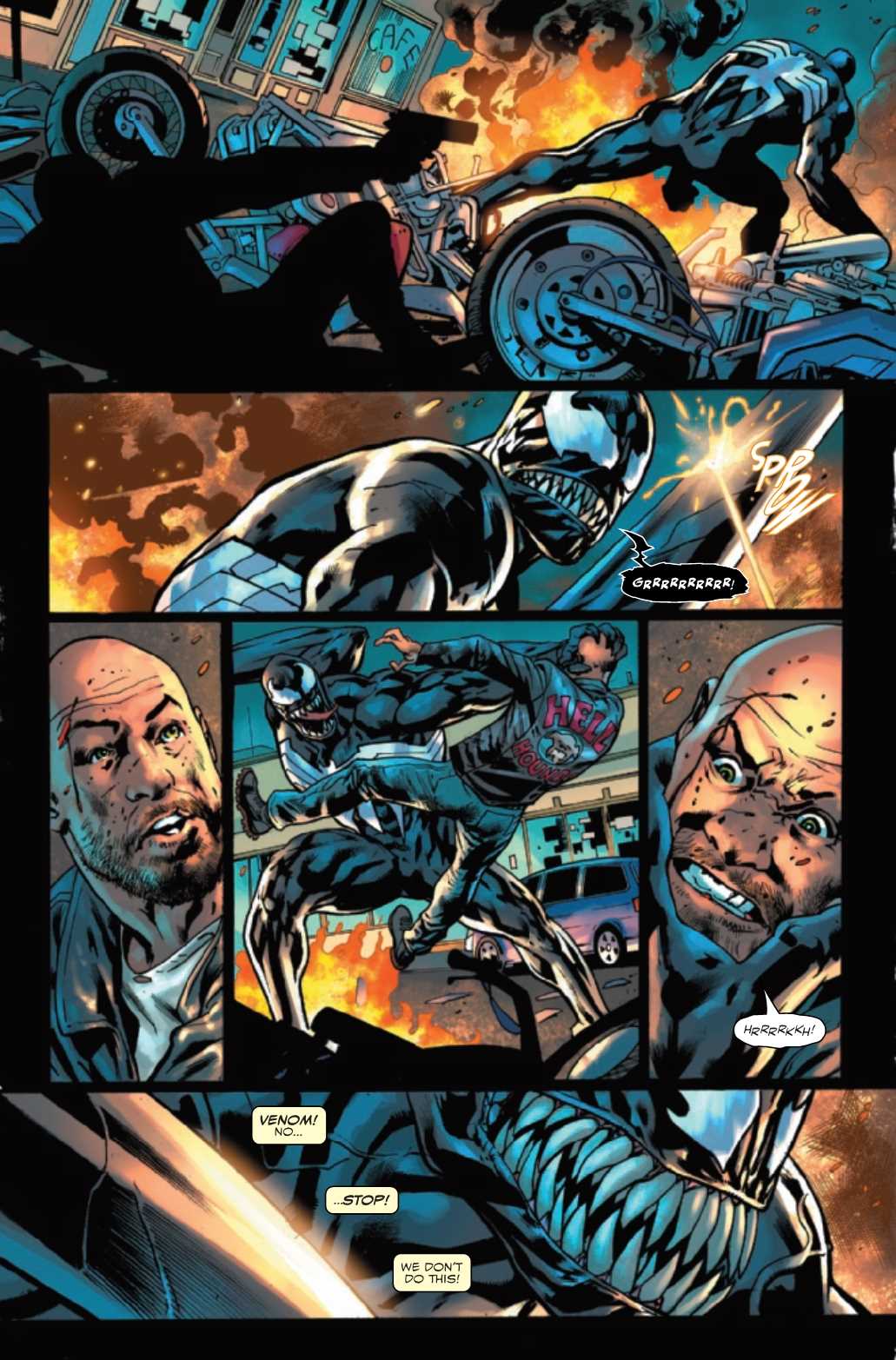 Again, this may just be me, but I could give a rat's ass about Jake, his gang, the Renegades, or the rival gang, the Hell Hounds. But, if you do care, I guess you'll be as sad as Dylan with the way things turn out by the end of the issue.
A big cliffhanger elevates who and what Bedlam may be, but we may have to wait for that since Al Ewing will be on the next couple of issues.
Bryan Hitch's art is excellent throughout, making the fight scenes big and explosive but more personal with the gang stuff. Through expressions and posture, he really shows Jake as a tired older man who is weary with what his life has become.
Final Thoughts:
Venom #6 continues Ram V's slow-paced Dylan story. While that's not necessarily bad, I am still trying to grab onto something in this run to make me care, and watching a biker gang fight isn't it. Maybe the cliffhanger will lead to that, but only time will tell. Again, the art is excellent, but this story needs more forward momentum before I can recommend it.
5.5/10