Written by: Kieron Gillen
Art by: Guiu Vilanova
Colors by: Andres Mossa
Letters by: VC's Travis Lanham
Cover art by: Pasqual Ferry, Matt Hollingsworth
Cover price: $4.99
Release date: November 9, 2022
A.X.E.: Judgment Day Omega #1 examines the life of the Celestials after the events of Judgment Day. That's it.
Is It Good?
If you go by the retail cover price, A.X.E.: Judgment Day Omega #1 is a $4.99 prologue. Nothing of consequence happens, there is no story by any standard definition, nor is there a change in the status quo of any character from what we already saw coming out of the main event.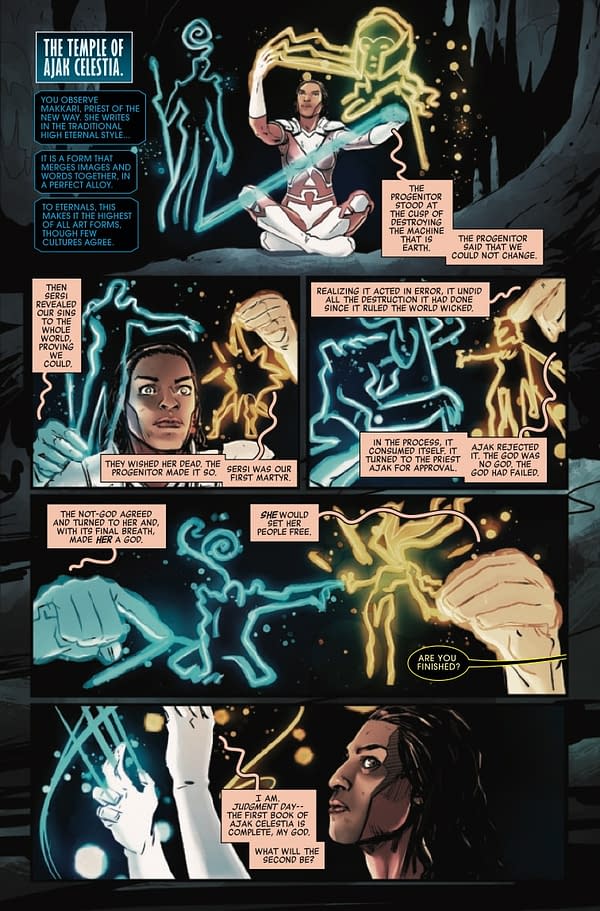 This comic is the equivalent of a "where are they now?" montage showing how most of the Eternals are trying to be better. They strive to adapt to the presence of Ajak Celesita and her potentially heretical take on the Principles. They seek to make amends for the wrongs of the past committed against humans and mutants. And they grapple with the loss of humanity innate in their resurrection mechanism.
There are a few moments of genuine remorse, particularly from Ikarus as he reaches out to the mother of one of the dead, lost in his resurrection. The art is serviceable but not great. But nothing important happens in this comic other than to show you what life is like after the Progenitor.
---
About The Reviewer: Gabriel Hernandez is the Publisher & EIC of ComicalOpinions.com, a comics review site dedicated to indie, small, and mid-sized publishers.
Follow @ComicalOpinions on Facebook, Instagram, and Twitter
---
Final Thoughts:
A.X.E.: Judgment Day Omega #1 is an expensive and largely unnecessary prologue to the Judgment Day event. There is no story of any kind. The passable art is average at best. And all you really get out of this issue is a few scenes showing how the Eternals are trying to be better.
5/10